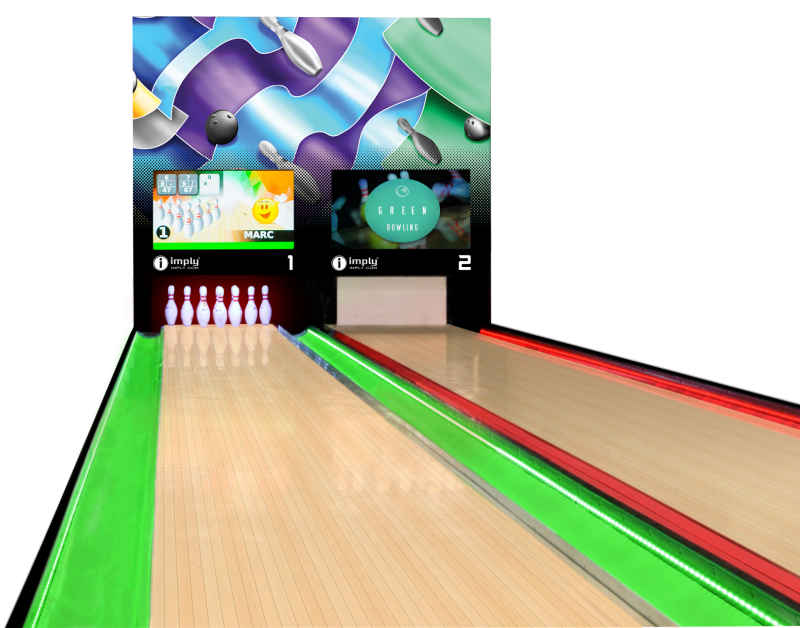 Bowling
Green Bowling
Description
Take your bowling to the next level with our Official Bowling Lane Equipment.
Give the players what they want. We developed the Green Bowling® with the latest technologies applied to the entertainment. All designed to create a new bowling experience. With the fusion of our know-how of the world market and creative ideas, Green Bowling® combines various reasons to attract players, offering the most fun way of doing many strikes, and keep them coming back for more!
Smartphone Interface*:
If you really want to surprise your customers, take advantage of the latest technological innovations. Use this unique interface to allow players to connect their own smartphone to the game. Players can use their smartphones to access the options menu, view the score of the game, order from the menu and share their score on social networks. 
*Optional for Touchscreen Terminals. Not available for Bowling Café Terminals.
THE REAL WOW! FACTOR!
Our unique RGB LED lighting system synced on pins, along the lanes and on the players terminal, creates a light show! The incredible colorful visual effects are interactive and animated according to each play, dazzling players and creating the WOW. The effects are independent for each lane, and generate a sensational result of lighting throughout the bowling surroundings. Besides, our lanes shine under black lights with our amazing Bright Bowling lighting effects! Guaranteed attrractive impact for happy hours and birthday parties. Give life to your bowling!